Once the heat turns up, usually during the spring here in NJ, I LIVE in Maxi dresses! Nothing is more comfortable than throwing on a breezy dress and sandals in my opinion. And Maxi's are so easy to change up with accessories! Luckily there are loads of them out already in a great range of styles, prints & prices!!! Here are a few of the maxi's I'm coveting right now...

I love this Mossimo Dress from Target! It comes in 6 colors & at only $20 a pop, it's inexpensive enough to grab a couple!

This Black Vest Maxi from TopShop is fairly inexpensive and is the perfect dress to go from the beach then out to dinner with the right accessories!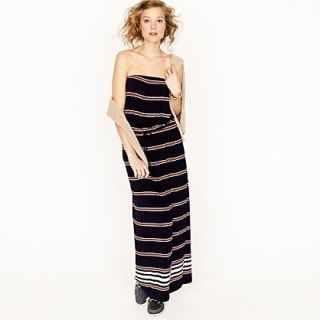 The Amie Striped Maxi from J.Crew is adorable & currently on sale! Hold off until the next coupon comes out and snag it for less!

This Sabine Corset Maxi from Piperlime is one of my fav's! This is definitely more of a dressy style, but would be the perfect unique look for a summer wedding or party! Love it!!!
Even better, all of these stores are available for cashback through
Ebates
! If you're not familiar, Ebates is a secure shopping site where you simply login before you shop, and click through. They also conveniently list any coupons the store has going on as well. I've been using this site, as well as Lucky Rewards (available to Lucky Subscribers only, for years and they are awesome! I do A LOT of my shopping online and let me tell you, it takes 5 seconds, and the cashback really adds up over time!
What do you think of Maxi dresses? Are you a fan? Feel free to post your fav's!!!
XOXO