My love affair with J.Crew started in my early High School years. I still remember getting those catalogs in the mail, back before they even had the kind of website they do now. Back when there were glorious sample sales at local warehouses in my area! I miss those days. I'm still wearing my beloved J.Crew. Whether I have a love/hate relationship with them at times due to quality change & price increases over the years, some things will never change. I tell you with no doubt in my mind that as long as J.Crew is around, I'll still be shopping there in my 60's!
Today I got an email with the latest sale updates and even better, use code "SHOPNOW" for an additional 30% off!!! I've been a little "late to the party" as far as spring/summer shopping goes. I've honestly been hoping to score a few deals and fab finds! Just watch that cart, as some pieces are final sale. Here are some of my current JC fav's...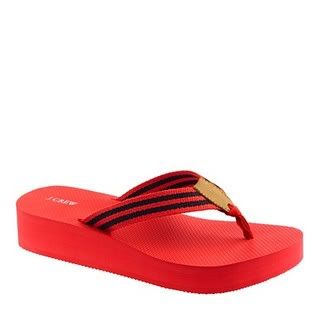 I've never been a fan of regular sweatshirts, so the Spindrift Sweatshirt is perfect! It's a little more light weight and the fit is just right. I could see it paired with chino shorts and these adorable Stripw wedge flipflops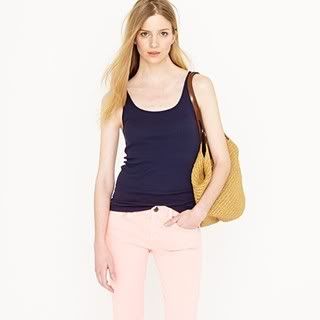 I normally grab my tanks at the factory store, but this is a great deal! I've been wearing these tanks for years and they are a constant in my closet from summer through winter! I love the Vivid Poppy color and think it would look great paired with the tailored Classic Flare Jean

The Ruche Banded One Piece is perfect for the body conscious girl that still wants to look chic! I could stand to lose a couple pounds and this suit is perfect for hiding some of those flaws without looking frumpy! And the Shirred Ruffle Bandeau is a gorgeous two-piece option available in an array of colors!

I love Maxi's in the summer! Nothing is easier than grabbing a breezy skirt or dress to throw on!! Both the Amie Maxi Dress and the Jersey Maxi Skirt would be ideal additions to a spring/summer wardrobe!!

I love the pops of color in these simple tees! And at these price points, I would def grab a couple colors of each!! The Linen Baseball Tee in Cerise would be gorgeous with a pair of navy shorts! And the Perfect Fit Tee in Heritage Green would compliment pretty much any pair of shorts!!
So there you have it! Just a few of my favorite picks from the sale! There were more.... but I would be here all day .... make sure to check it out so you can snap up your fav's before they're gone! And don't forget to use code "SHOPNOW" for an additional 30% off!! Happy shopping!!!
XOXO