Happy Monday! I hope you all had a great weekend!!! We had a very relaxing weekend school shopping and then enjoying the last bit of summer weather by the pool. It was nice and breezy and just that little peak of cool weather that comes with the approaching Fall. This is the time of year I start pining...... Daydreaming of Apple Cider, leaves crunching under my feet, that bit of crispness in the air when I step outside for the first time in the morning. I love it. I miss it.... So so much. We only have a couple weeks until school starts for the boy, so I've definitely had Fall clothes on my mind. I've gone from pinning my summer staples - maxi dresses and tanks to pinning cardi's, statement necklaces and neutral knits that have me wishing that the Fall season would start sooner!
Here are some of my latest fav's....
I love that each of these knits are neutral, yet there's something a bit unexpected about them. The traditional stripes with the lovely flounce of fabric at the bottom. Or the slightly tailored look of a button down with the comfort of a henley that has a unique touch. I really love the last pullover - that dark color is perfect for fall and the laid back style looks so comfortable, but with the bit of lace in the back. Perfection.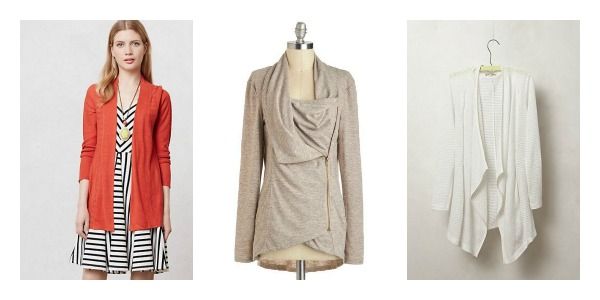 L to R: Adella Cardigan, Airport Greeting Cardigan, Whisper Stripe Cardigan



For as long as I can remember, Cardi's have been a staple in my closet. I remember a few years ago when there seemed to be a cardi shortage! But now they are back in full force and I'm loving all of the details on some of them. I'm a sucker for drape, folds, and other odd little details. I really like when a basic design has a touch of something to take it from average to a whole other level. The orange in the Adella Cardigan is perfect for fall. I absolutely adore the oatmeal color of the unique airport greeting cardi and love the versatility of the zipper, allowing you to wear it as shown or unzipped with a similar flounce to the whisper stripe.






L to R: Arieel Grey Suede Booties, Galapagos Necklace, Faux Calf Hair Belt





I'm in desperate need of a new pair of booties for fall and this pair definitely fits the bill! They are perfect for everyday wear and the grey color is the perfect neutral! This necklace is the perfect statement maker without being overboard. I love the color palette and think this would get a ton of wear! I also love that it supports Artisans in impoverished communities! Win-win!! Last but not least, I fell in love with this belt when I saw it. Not just because I'm a major leopard fan, but because I will not wear calf hair and it is SO difficult to find this style of belt that is FAUX like the one pictured!

So there's my current roundup of Fall fav's! The perfect fall winter coat hunt has also begun. If you're not familiar with this annual activity, it starts in the late summer and often lasts throughout the winter ending with me buying a so-so coat that is just not up to par. I have yet to find Mr Right!!! The search continues....

Enjoy your Monday lovelies!!!