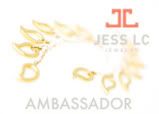 I wanted to take a break from my usual clothing posts to talk about someone I am truly inspired by. During my "bloglift" I've added some sponsors and if you take a look on my sidebar you'll see that one of them is a company called
Jess LC
. I have to admit, I originally came across this gorgeous jewelry after seeing several "Jess LC Ambassador" buttons on various blogs. I was curious what an ambassador was and after clicking on the buttons and looking at this beautiful jewelry, I could see why so many bloggers out there were spreading the word about this company.
But I have to say, that the jewelry wasn't the only reason I became an Ambassador myself. Once I read about the designer behind the jewels,
Jessica Constable
, I was absolutely smitten with this company. Jess started out at only 15 years old making her own jewelry while sitting at the pool. After selling some pieces to the women there, she decided to start selling them on a regular basis. By the time she graduated High School her jewelry was carried in 12 boutiques.
Jess went on to college at the University of Michigan in 2003, but continued to run her jewelry business. By the time she graduated in 2007 she had been named "Entrepreneur of the Year" and decided to move forward with her company as the CEO. She moved to Chicago and started selling her jewels out of a studio apartment. By the end of 2008 her jewelry was being sold in over 100 stores.
I find Jess's story so inspiring and am amazed that she started her business at only 15 and kept following her dream at such a young age. I am so proud to be am Ambassador for
Jess LC
! I hope you'll take a moment to check her website out and spread the word about this amazing woman!!
And of course I couldn't end this post without showing a few of my favorites, which is so hard since all of Jess's jewelry is so lovely! So without further ado...
The Diversey Paisley Layering Necklace would be a beautiful addition to any jewelry collection. It can be dressed up or down and is so versatile! It would also look great layered with....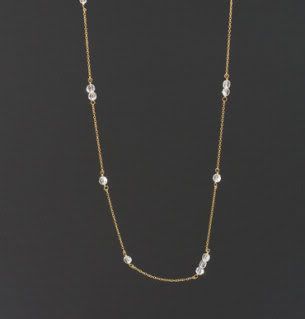 The Wellington Random Crystal Layering Necklace
.
And my absolute favorite necklace of all is the Franklin Breathe Braille Necklace I love charm style necklaces and I love the unique twist of having Braille stamped into it! So pretty.
There are just so many gorgeous pieces I could be here posting all day! Have a great day lovelies ;)