While thinking about fun craft ideas for my son's upcoming class holiday party, I had a fond memory of an adorable little ornament I made when I was in 1st or 2nd grade. I remember this little reindeer I made in class out of clothespins and it was the cutest little thing. So I decided to do a google search and peruse all the instructions for these charming little critters. They are really easy and inexpensive too!
Clothespin Reind
eer Ornamen
ts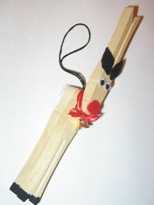 You will need......
3 Clothespins
A set of googly eyes
A permanent marker in brown or black
A small sheet of felt in black or brown
A little pom pom, sequin, bead etc (for the nose)
Small pom pom for the tail
Any other embellishments - ribbon, etc
Strong glue (craft glue, hot glue, etc)
1. Using your marker, color in the bottom of two of the clothespins to look like hooves (see picture above)
2. After the marker dries, glue the two clothespins together to form the body and four legs.
3. Turn the remaining clothespin upside down and glue the top part ( where it is not open) to the top of the body - as shown in the picture.
4. Place the googly eyes on the front and glue your nose in place
5. You can use the felt to cut out ears (as shown) a saddle and other details you may want to glue onto your reindeer. Glue your tail in place.
6. To finish tie a piece of skinny ribbon around the neck to hang on the tree or if you just want to give to someone as a toy, you can tie a little bow around the neck.
You can personalize it any way you want. Some ideas might include ....
~ A letter on the saddle
~ Putting glitter on the front of the antlers
~ Using something else for eyes or a nose
~ Paint your reindeer with craft paint and let dry before gluing your details
Have Fun!!!